What are Fire Safety Labels?
Upholstered furniture or furnishings should come with a Fire Safety label attached to inform those with the furnishings that the products are Fire Safe.
How do I check Fire Safety labels?
There are two types of labels. The first is display labelling. This label is attached prominently somewhere so that the purchaser of the furniture. The second label is a permanent one that should be difficult to remove without causing damage to the label. These are usually found on the base of items or underneath cushions where they are less likely to be removed.
What do permanent labels look like?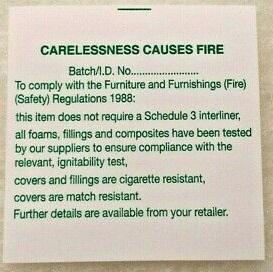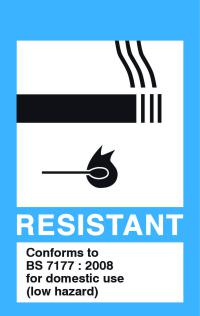 Beds and mattresses have their own specific requirements for labelling which sometimes come in the format above.
How do I record checking the Fire Safety labels?
You can note on the inventory report that the labels have been checked and include photographs of the labels on each item.
Where can I find more information?
For more information please use the following link https://www.nrla.org.uk/resources/looking-after-your-property/fire-safety-furnishings
Where can I find training on this topic?
The NRLA offer a multitude of courses for our members to increase their knowledge and improve their skills as a landlord. You can find training on Fire Safety and other topics. You can attend these courses in a classroom, eClassroom or eLearning depending on your preference.